International Society
For Krishna consciousness
Donate Now
About Us
Trichy is a traditional town located on the banks of the Holy river Cauvery. With a population of over nine lakh people, the city enjoys tropical weather around the year.
Hare Krishna Hare Krishna Krishna Krishna Hare Hare
Hare Rama Hare Rama Rama Rama Hare Hare
Trichy is also a land of endless flavors where pilgrim centers and historical landmarks still sing its classical fervor. These monuments boast thousands of years of history, glorifying ancient Vedic civilizations. International Society for Krishna Consciousness, also popularly known as the Hare Krishna movement is a spiritual society founded by His Divine Grace A.C. Bhaktivedanta Swami Prabhupada in July 1966 in New York. ISKCON belongs to the Gaudiya-Vaishnava sampradaya, a monotheistic tradition within Vedic culture. Today ISKCON comprises of more than 400 temples, 40 rural communities and over 100 vegetarian restaurants.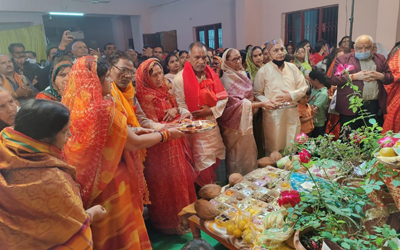 Home Satsang
Lorem Ipsum is simply dummy text of the printing and typesetting industry. Lorem Ipsum has been the industry's standard dummy text ever since the 1500s,
Food For Life
Lorem Ipsum is simply dummy text of the printing and typesetting industry. Lorem Ipsum has been the industry's standard dummy text ever since the 1500s,
Sunday Feast Program
Lorem Ipsum is simply dummy text of the printing and typesetting industry. Lorem Ipsum has been the industry's standard dummy text ever since the 1500s,