International Society
For Krishna consciousness
Donate Now
Sri Sri Jagannatha, Baladeva and Subhadramayi Temple
Founded in the mid-1990s, the Srirangam branch of the International Society for Krishna Consciousness (ISKCON) has been diligently spreading the sacred teachings of Lord Sri Krishna, the Supreme Personality of Godhead. Our endeavors include a rich tapestry of activities, ranging from intimate house programs to vibrant congregational development. We extend our reach through engaging school programs for children and captivating Nagar Sankirtan sessions across Trichy and its neighboring villages.
The heart of our activities lies in the celebration of spiritual festivals like Janmashtami, Radhashtami, Balaram Jayanthi, Narasimha Jayanthi, and Gaura Purnima, where both devotees and the public unite to honor these occasions in a grand manner. These festive gatherings also witness the distribution of thousands of plates of sumptuous Krishna prasadam, a gesture that embodies our commitment to sharing spiritual nourishment.
Every Sunday, we invite everyone to partake in our special "Sunday Feast" program, where a congregation of more than a hundred people regularly gathers in the evening. This soul-enriching schedule includes soul-stirring Kirtan sessions, heartfelt Arathi rituals, enlightening Pravachan discourse, and a shared sumptuous prasadam meal.
Throughout the auspicious month of Kartik, we orchestrate special programs in schools within Trichy and its surroundings. These events offer the children and teachers the opportunity to offer ghee lamps to Lord Damodara, reaping immeasurable spiritual rewards. Our commitment to knowledge-sharing continues through the Bhakti Vriksha programs held at various locations, where we empower those interested in Krishna Conscious philosophy by imparting the wisdom of the Bhagavad Gita and guiding them on their path of spiritual devotion.
A community of devoted practitioners, harmoniously blending their spiritual journey with familial responsibilities, characterizes our movement. ISKCON Srirangam is poised for expansive growth, poised to enrich both the spiritual and material lives of those in the area.
The presiding deities of ISKCON Srirangam – Lord Jagannath, Lord Baladev, and Goddess Subhadra Devi – currently grace a temporary abode, generously provided by a benevolent devotee from Madurai.
Srirangam, renowned for its association with Lord Ranganatha, beckons thousands of pilgrims daily. Among them are numerous ISKCON devotees and life members who seek darshan of Lord Ranganatha before finding solace in the presence of Lord Jagannath at ISKCON Srirangam. Although our present infrastructure limits our ability to provide accommodation and prasadam to these seekers, our resolve remains steadfast as we strive to bridge this gap in service.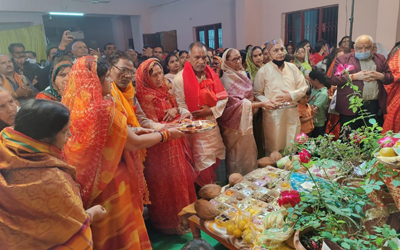 Home Satsang
Lorem Ipsum is simply dummy text of the printing and typesetting industry. Lorem Ipsum has been the industry's standard dummy text ever since the 1500s,
Food For Life
Lorem Ipsum is simply dummy text of the printing and typesetting industry. Lorem Ipsum has been the industry's standard dummy text ever since the 1500s,
Sunday Feast Program
Lorem Ipsum is simply dummy text of the printing and typesetting industry. Lorem Ipsum has been the industry's standard dummy text ever since the 1500s,